YOU are Important!
Sunday evening I returned from my Fall Todd Durkin Mastermind Retreat – a gathering of the best of the best in the fitness industry world. They are world class leaders that are helping inspire and impact their families, employees and clients to live their best, most fit and health life!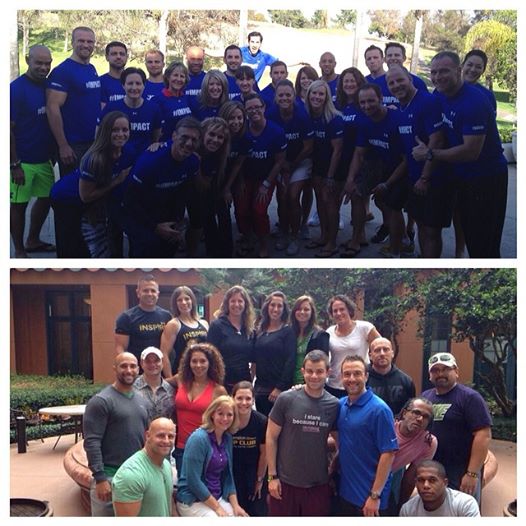 Tears were shed, laughs were had and dreams and goals were shared by all. I sat in a room filled with beautiful, fun, fit, driven, passionate, sincere, and amazing people who take of others…before and/or at the expense of themselves – were struggling with health issues.  It reminded me that life is not about WORK or BUSINESS it is about LIVING LIFE!  Are you working yourself to death OR experiencing life? Do you need to make a change?
Many  more lessons were learned over the course of the weekend and I'd like to briefly share them with you!
Take care of YOU, FIRST! Your physical, mental and spiritual self all need attention.  You must take care of you if you want to BEST take care of others!
Know where you are going! Where do you want to be at 65 years of age? What do you want to achieve in the next 10 years, 5 years and the upcoming year?
Be PRESENT with your LOVED ONES! Your loved ones may be children, siblings, parents, grandparents, relatives, friends and/or colleagues – let them know NOW how much you care about them. Life is precious and you never know what is around the next corner! Live without regrets!
What do you MOST ENJOY? DO IT! Make plans and take time to ENJOY life.
Every seven years take stock of your life and career. Are you still heading in the right direction? Be prepared to evolve and transition into new directions.
COMMUNICATE with those closest to you. We (my husband and myself) have a calendar white board posted by our home door with all of our activities color coded. My friend, Adam Wright and his wife, Becky, have a white board with their Top 5 Goals for the Week posted. A great way to keep tabs on what is important to each other every week!
Are you BUSY or do you lack a PLAN? BUSY is a four-letter word in our house! Busy is not following a plan; busy is flying by the seat of your pants. This summer I have heard countless times, from others, how busy our life is. Our life is not busy! We have a plan, our days are scheduled and filled with things that are important for us to accomplish and do. Vacations are schedule, income generating time is scheduled, the boys activities are scheduled….we lead an ACTIVE LIFE, BY DESIGN! Not sure where your time is going? Schedule an audit of your time for one day or better yet a week – log what you do every 15 minutes for 7 days!
LISTEN! We met good friends of "THE" Walt Disney – Wade & Cheryl Hurst. They said that one of Walt Disney's greatest traits was LISTENING. This is why "we have TWO EARS & one mouth." In addition, they mentioned that Walt Disney was exceptional at getting to know people; he never expected from you what he wasn't willing to do himself and he was very organized.
Think of your TEAMMATES.
ASK – the worst someone can say is "NO"! Get over FEAR…it leads to SUCCESS!
Get over the small stuff to make TIME for the IMPORTANT stuff! We all have things that annoy us, that we dislike about work. Assess if it is worth doing something about or can you put up with it, so that – you can put food on the table for your family and/or spend more time with loved ones.
Write. Write about your dreams – travel, dream home, job, family, etc. Live your life backwards; map it out. Writing can be therapeutic and creates clarity.
Stress can LEAD TO SUCCESS! Shift your mindset – use stress as an opportunity. As you relieve stress and improve your fitness, nutrition and wellness, in turn you move toward success.
Preparation + Visualization + Hard Work (not at the expense of family)allows you to WIN in ALL areas of LIFE!
Do what you do best & hire the rest! Assess what do you do that ONLY you can do? How can you BEST USE your time?
The power of COMMUNITY! Surround yourself with like minded, positive, driven individuals…and you will begin to resemble them!
Change HABITS & BEHAVIORS to achieve results…it is NOT just about cardio, strength and nutrition!
Look BEYOND the "pretty package" you just might discover some really cool, inspiring, deep and uplifting individuals! Ask questions!
WOW! I could go on…..as my mentor, Todd Durkin, would say "& THEN SOME":
Be authentic, real and transparent. We have so much to LEARN and gain from each other. Share your experiences to help others.
HAVE FUN! My friend, Dawn Celapino owner of Leash Your Fitness (San Diego) greeted myself and two other members of the mastermind at the airport and took us 5 minutes away to go paddleboarding for two hours! Amazing to get off the plan and have my feet in Mission Bay with SEALS swimming under my board! Life is too short – GET OUT & EXPERIENCE all that it has to offer! You'll NEVER regret it!
Wishing you all an amazing and beautiful FALL weekend! Enjoy the sun, cool air and gorgeous colors! Get Out. Get Fit. Have FUN! Jenn
Jennifer is the owner of PEAK fitness NW and 21 year Certified Personal Trainer & Health Coach and Divisional Clinic Leader for PSIA-NW (Professional Ski Instructors of America, Northwest). In 2013, she launched a 12-week PEAK Ski Conditioning program:  36-30 minute workouts to have your ready to ski slopes with ENERGY! Receive new ski, fitness, health and nutrition tips weekly by sharing your name and email to the right side of this blog!
October PEAK fitness NW Ski Conditioning begins Monday, October 6th, in the Portland Metro area. Register and/or gather more information at https://www.peakfitnessnw.com/event/ski-conditioning-mt-tabor-2-2-2-2-2-2/2014-10-06 . If you have any questions on how you can kick-start an active lifestyle that incorporates the outdoors contact Jennifer Lockwood. She can be reached at jenn@peakfitnessnw.com or 503.913.8385.
To register for the 12-week PEAK Ski Conditioning program:
https://www.peakfitnessnw.com/event/peak-ski-conditioning