PHILOSOPHY
"FUN, effective & efficient exercise"
Seventy percent of Americans who start an exercise program quit within six months.  In 29 years of Personal Training, I have learned that to help my clients stick with their fitness plan they need the most time efficient and effective exercise program, which will allow them to reach their goals.  It should be FUN – this has been a key to my client's success.  Also, I believe my clients programs should include variety by performing traditional exercises in new "untraditional" ways and provide different routines,  preventing staleness and boredom.
I pride myself in my attention to detail, service and value that I offer the people who have trusted their health and fitness to me. I work hard to create an environment that is motivating, uplifting and welcoming. I want you to know that your sessions are all about you. Every Personal training program is different – one size does not fit all! Depending on your goals, physical fitness level, interests and your individual muscular imbalances. I will design a custom-fit program perfect for you.
CLIENT BASE
My strengths include group outdoor fitness training, strength training, suspension strength training, functional fitness, pre and postnatal fitness, Nordic walking, cardiovascular fitness, sports conditioning, flexibility, proper nutrition and weight management.  I have worked with a VARIETY of clients over the last 29 years.  Most recently, working with aspiring athletes as young as 8 to mature adults as "young" as 86!  I love working with clients who want to improve their health, fitness, sports performance and are willing to take on new challenges.
PERSONAL INTERESTS
I have been an athlete all my life.  Playing sports from the age of four and living an active lifestyle of traveling, water sports – knee-boarding, water skiing, windsurfing, biking, hiking and golf.  My interest in fitness began at the age of 15 when I began lifting weights to compliment my competitive athletic career in soccer, basketball and softball.  While attending college, I played softball (Wenatchee Valley College) and rowed competitively for Oregon State University.  Currently my personal interests include:
· Alpine skiing & Mountain Biking  with my husband, Dan, sons – Kegan & Kellan & Dogs – Rainier, a Golden Retriever & Denali, a German Shepherd · Hiking · Traveling · Reading · Cross-Country Skiing · Nordic Walking · Snowboarding · Snowmobiling · Trail Running  · Spending Time w/Family & Friends · Having Fun!!!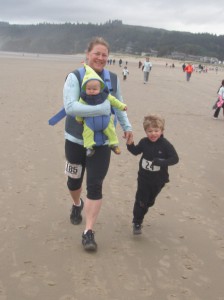 Start training for your goals TODAY!  Your results will improve with the help of a Personal Trainer: 75% of people who are exercising are not getting the results they want, however, 25% of the people who are getting results – 90% of them are working with a trainer.
I love helping guide others to becoming more healthy, fit and confident. I love what I do and am always striving to do better. I look forward to the opportunity to help YOU achieve your PERSONAL BEST!