OUTDOOR FITNESS TRAINING: 5+ participants
Outdoor Fitness Training is a fresh approach to total body conditioning.  It blends the exhilaration of being outdoors in any environment, on any terrain, with traditional fitness exercises and techniques.  Mountain trails, urban city parks, playgrounds, sports fields, trees and even parking meters become your "gym".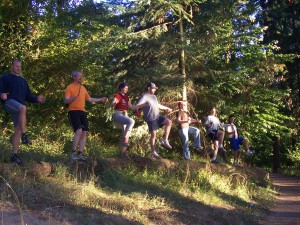 Outdoor Fitness Training is an exciting and unparalleled workout experience for both body and mind.  This one-of-a-kind workout program developed by Jennifer Lockwood, PEAK fitness NW Owner/Trainer will transform your body and sharpen your mind; revolutionize your commitment to fitness; and, get you RESULTS!
These workouts are a 75-minute complete body-mind workout incorporating the outdoor terrain in any environment.  Cardiovascular, resistance training, balance, agility and flexibility are addressed in each workout.
Burn 500-800 calories
Burn fat
Strengthen your cardiovascular system
Tone and strength all your muscle groups
Improve your balance and agility
Gain flexibility and range of motion
Sharpen your mental focus
Feel calmer, more relaxed and invigorated
Experience an effective and rewarding workout!
It does not matter what your experience is, Jennifer is here to help you every step of the way.  Whether you are a novice or expert, the training starts with your desire to move toward your health and fitness goals.  Every workout is a new experience – where variety is king and you may never do the same workout twice.  You will increase your fitness level, meet your goals, and develop your body to meet the demands of life and sport!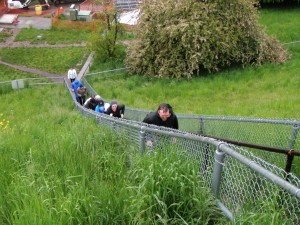 Outdoor Fitness Training magnifies the RESULTS of a fitness program in the following ways:
positive effect on body composition
positive effect on self-image
increases energy
enhances motivation
decreases stress & anxiety
decreases the incidence of depression
enhances greater emotional power & control
improvements in mental acuity
helps prevent injuries
deepens environmental awareness, appreciation & connection
promotes social connection
supports spiritual awakening and overall sense of well-being
enhances sensory awareness
enhances greater sense of connectedness with the natural world
With Americans spending 93% of their time indoors and in a digital environment that includes fluorescent lighting, recycled air, buzzing machines, computers, cell phones, etc we have lost touch with our attraction to the natural world – the earth, wind, fire, sun, moon, water, plants and animals.  We have a need to be near these natural elements, called the biophilia effect.  The Outdoor Fitness Training environment of fresh air and negatively charged ions – created by water droplets, flowing air and sunlight have a positive effect – causing us to feel alert, refreshed and uplifted.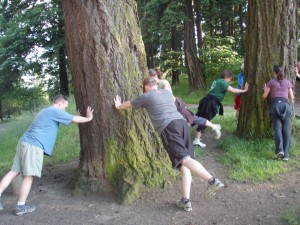 The variety of outdoor surroundings, terrain and freshness of air INSPIRE people to stay COMMITTED to Outdoor Fitness Training at a higher rate than those who exercise indoors.  Bottomline, it is clean, dirty fun!  Where there is only one rule – "there is no inappropriate weather, only inappropriate clothing!"  Join us to turn YOUR workout into PLAY and ADVENTURE and achieve the results you have always wanted!
Peak fitness NW Personal Trainer, Jennifer Lockwood, has completed the Outdoor Action Fitness (OAF) Level II Course Certification, The OAF Workout – Anywhere! Anytime!  and is an experienced 19 year Certified Personal Trainer.