Cathy Kennedy
"When I contacted Jennifer Lockwood to set up a training session, I expected to be given a weight routine. Instead, before our first meeting Jennifer sent me a lifestyle questionnaire to fill out. She talked with me about my goals, ensuring they were measureable and attainable. She helped me envision my life as a fit person. What would that mean? How would my life be different than it was now? I switched my focus from "lose weight" to "be active." Since that time I have done many firsts; a 5k, 8k, and 10k. I swam across the Columbia River and competed in an obstacle course race. Currently, I am training for a half marathon. With Jennifer's help and my determination, I lost 70 pounds and have kept it off for over a year. Jennifer changed the way I look at exercise, movement and recreational activities. Another great thing about training with Jennifer has been participating in her "boot camp" fitness classes. These classes are awesome! Working out with a group doing cardio, strength, balance and flexibility exercises, is very motivating! And something I never could have pictured myself doing 2 years ago. Jenn has shown me that playground equipment can be used for adult fitness too! Classes with Jenn provide workouts which, are by far the best, most fun, most challenging I have ever done. Adopting her attitude that there is "no inappropriate weather, only inappropriate clothing" has made a difference in how I approach the rainy season in Oregon. PEAK fitness NW's motto is Get out, Get fit Have fun, and Jenn Lockwood helps her clients do just that."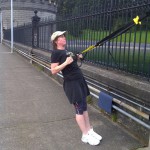 Accomplishments:
5K
8K
10K
Columbia River Challenge
Obstacle Course Race
Dragon boating
Lost 70+ pounds
Sandi McClary
PEAK fitness NW provides "Just right training for me – adaptable to my schedule and level of fitness.   I have gained confidence that I'm doing things that are right for me.  Encouragement.  And fun!"
Training Plan:
Bi-weekly &/or monthly at-home private training
5-6 days/week cardio
2-3 days/week strength training
Square dancing
12- Week Results:
Body fat reduction:  -5.9%
Weight lost:  12 pounds
Inches lost: -11.6
Dianne Sanders
"I started working out with Jenn about five years ago. I was looking for a way to incorporate daily fitness into my schedule without having to go to a gym. Jenn started training me to Nordic Walk, which was a fun way to get aerobic exercise into my routine. I have attended several of her day boot camps, and weekly outdoor fitness classes. Several of my friends have started taking her classes because they have seen the results I have achieved. Jenn's friendly approach to daily fitness is refreshing; she has a way of coaxing you to push yourself as far as you can go, and take pride in your progress. Her attitude to get out, get fit, and have fun is infectious."  Dianne Sanders, Scappoose Oregon
Nikki Carter
I met Jenn Lockwood shortly after joining Oxford Athletic Club in 2005, from the constant encouragement of my son.   Unable to attend the group classes offered by the club I realized I needed the assistance of a trainer.  I had been active in sports (volleyball and track) growing up and had enjoyed outdoor activities (biking, hiking and rafting until I had kids). Most of those I had given up entirely, due to a series of auto accidents (5 in 7 years), life changes, working 10-14 hours a day and being mom to two active boys.  I knew I needed the guidance of a professional to make sure I didn't aggravate the problems I had with my back and joints.  I had already had to change careers because I physically could no longer do the work I loved. I worked for 15 years as a Pastry Chef and was lifting 35-50 lbs buckets and bags all day and standing 10-14 hours daily on concrete/tile floors.  At 33, I started losing the use of my right hand, and I am right handed.  I had injured the right rotator cuff which caused problems with the muscles and nerves in that hand.  I had been to doctors and neurologist with no results. I had a great chiropractor who met me two-three times a week to tape my shoulder and hands so I could work.  At that time I was taking 12-20 ibuprofens a day, just to keep working. His analysis was that my joints looked like someone much older than my age.At his suggestion, I found another line of work so that I could keep some quality to my life.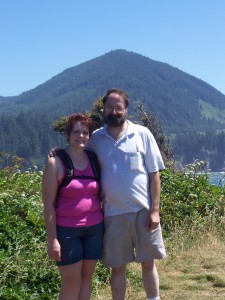 I switched from being active, walking and running stairs at the locations I worked to sitting in an office all day. I wasn't feeling well, not eating right and I was told I really needed to slow down.  Over the years I did less physical work (professional) but enjoyed walking and gardening. I started working out with Jenn in private training sessions at Oxford Athletic and lost 25lbs and was even participating in outdoor adventures. I managed a 7 mile hike at the coast. I continued my training and moved to Beaverton shortly after Jenn went on maternity leave with her first son, Kegan.  I thought I would continue my workouts but I let life and work get in the way.  I quit the workouts and started not feeling well and gained back the weight I had lost.  I knew I needed to get back to having a fitness plan in my life.  I contacted Jenn after finding her PEAK fitness NW business card and started a plan.  Shortly after beginning, I was in an auto accident #6 (okay, I do not hit people I magically attract cars to drive into mine) I was technically okay just a bunch of bruises on my feet (it took 2 weeks before I could wear shoes again) and pretty banged up.  X-rays showed that I have bone degeneration in my spine and I've lost about30% of my mobility due to the number of accidents and multiple injuries.
I resumed training with Jenn six months after I heal from this round of accident trauma.  I didn't live close to where she was teaching classes so I worked out with her at my home once a month.  The difference in my mobility and health is huge since beginning my fitness program.  Jenn started me  slow and has pushed me over the years to keep getting stronger and more fit.
Along with car accidents I also seem to be talented in spraining my ankles and knees.  I have sprained my ankles so many times the tendons and ligaments in my leg hyperextend.  The last time I had a major problem I could not stand up in the mornings without hanging on to the bed and the dresser to walk. It took me 10 minutes each morning to get my foot to hold my weight. If I was going to be walking or standing for long periods of time, like grocery shopping,  I had to tape my arch and foot in place and I would limp when walking.  I did this for two years . My muscles would let my tibia slide forward and causing my arch to collapse. I was having a lot of severe pain and again was slowing down on the exercising. I told Jenn what was going on and what my chiropractors and massage therapist had told me.  Jenn gave me some exercises for strengthening my arches and exercises she uses in her ski conditioning class.  I had huge improvements.  Last winter I signed up for Ski Conditioning  in Lake Oswego, close to my work. No I do not ski, however, after the first two months I quit taping my foot and haven't since.  This class was the best thing I have ever done and I continue to go on Thursday evenings.  Yes, sometimes the weather is extreme but I always enjoy feeling great afterwards and that I actually survived.
I also love the online challenges and the Thinner Winner contest.  I really need short term goals to help me stay fit. I have found for me that I need someone else to compete with and to hold me accountable. I will go do my cardio or weight training when I'm tired if I know not doing so will let my team member down. Otherwise I let myself talk me out of it – something I am working on.  In addition, I love the boot camps or Saturday workouts downtown.  It's great to see if I can survive them better than the previous time. I usually feel really good afterwards and come home to a household just getting out of bed, it really is a great feeling of accomplishment.
Have I met my goal weight yet, no but I have continued to work on my fitness level and nutrition. I have a plan set for the next four months and will reach it soon.
I now walk my dogs without being winded. Three years ago I could only make it about half a block before I was breathing hard. Today I can walk three miles in 45 min with no problems. I've started jogging, small amounts and working on increasing the distance.
Jenn's always reminding me I'm stronger than I think. I try things now and see how my body responds.   I'm just beginning to explore the possibilities of where I will go and what my next challenge will be.
I love that when I want to try something new or work on strengthening a different area of my body all I have to do is ask Jenn and she restructures my fitness program to help in that area. She does this in her classes, too.  When someone mentioned they didn't want to see their underarm waving we did a lot of TRX training for our arms. If I have a physical problem come up, we talk about it and revise my plan until I've recovered and continue with my fitness training. I also love the nutrition information she passes on along with the reminders of keeping our lives in balance.
Exercise and eating health is something I will always do; I will always work at staying fit.  I have learned with the injuries that there may be no reversal of the mobility I have lost but staying active will slow down or halt the progression.
I love working out with Jenn because of the variety she offers and the constant encouragement to set goals and push myself to do better. In the last year, I feel better than I have since I was in my twenties. I have seen big improvements in my health and over well-being. I'll be 47 in a few months and am looking forward to finding more things to enjoy in the future – such as making my husband and sons keep up with me.  Nikki Carter, Beaverton
Becki Garrow
Jenn has been very motivational, informative and knowledgeable to me.  She's taken my exercise regimen to a whole new level.  Without her, I wouldn't have achieved my results thus far and probably would have given up a long time ago.  Jenn has been great, and very supportive of my efforts with the bodybugg program.
Personal Training with Jenn has kept my training programs fun and interesting.  Jenn helped me stay motivated, taught me the proper technique and celebrates my sucess.  My health has definitely improved, lowered my cholesterol and resting heart rate.  The changes have been remarkable.
Goals:  Lose 26-50 pounds, gain muscles and continue to improve my nutrition.
Exercise Program:
Workout 5 days/week
a long run 6+ miles on the weekend
Fun Runs
Nordic Walking 1x/week
Stretching 1x/week

Weekly personal training sessions
Results:
38 pounds lost
-48.74 inches
-11.3% body fat reduction
5 Clothing Sizes!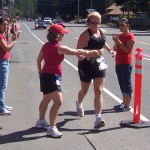 Seeing the results I've had, the weight and inches I've lost is still amazing to me – I know I can continue to lose the weight.  These results fuel my motivation.  I've learned how important nutrition is; how to incorporate exercise and movement and diversity of exercise into my daily life.
 Norma Schauermann
Training Goal:  Complete the Haulin' Aspen Trail ½ Marathon Training, 13.1 miles
Game Plan:  Walk/Run, 3 days/week
Accomplishments:  Successful completion of the ½ marathon with a time of 2 hours: 37 minutes = 12 minute/miles.  All while planning for her daughters wedding in San Diego!
Trainer Comments:  Norma was a TROOPER!  Norma enrolled as a member in May of 2005 with the goals of losing weight, toning muscles and increasing her endurance.  What perfect timing – we had our ½ Marathon Training Program starting up.  Every week of her 9 weeks of training, Norma showed up a little hesitant about her ability to accomplish that days running goal – and she completed every workout SUCCESSFULLY!  Prior to training for this ½ marathon – Norma had only completed a walking ½ marathon  and in 9 short weeks she finished with a 12 minute walk/run time – some people can't run that fast!  Norma was a great inspiration for me – she completed her training tasks even with her daughter getting married in California and finding out that her and her husband had another wedding to beginning planning – 3 children getting married within a year of each other.  It was so exciting to see her cross that finish line running– and to have her husband, Craig be so supportive and encouraging of her the entire time.
Client Testimonials:
Beth Woods
Jennifer's classes are first and foremost FUN and a fantastic workout. she's great at adjusting each class to varying fitness levels within the class. We rarely do the same thing twice; she's always mixing it up and with great benefits! Additionally, Jen is great a building community with and engaging kiddos too; my kids had a blast in her family fitness classes!  (Picture 1st on left)
Anonymous
I have know Jenn for many years, and can verify that she is an amazing trainer. She will push you further than you thought you could go, and the results you get from working out with her are worth it. She is excellent at making sure you do not get bored with your workouts-if you take classes 3 times a week, you won't be doing the same exercises. She is dedicated and very skilled at what she does, and I highly recommend her to anyone who wants to improve their fitness level.
Linda Buechler
I've grown to appreciate the benefits of working out outside, rain or shine. Jenn makes every workout fun and interesting. She always has a big smile and plenty of stories to tell. She works with all levels of fitness and any injuries that require special attention. I absolutely recommend her!  (Forefront of picture)
Richard Mario
I had personal goals and Jenn helped me achieve every one. I wanted to lose weight. Jenn helped me lose 40 pounds. I wanted to be a successful ski instructor. Jenn's class was tailor made to get me in shape for aggressive skiing. I wanted to have fun doing it and the classes are designed for fun.
 Gretchen Lee
Jennifer is the whole package-wealth of knowledge about physical fitness and super energetic! Great classes, really changes it up so you are always challenging yourself. I highly recommend Jenn!
 Danielle Melanson
I have been working out with Jenn for almost 1 year now. It has been the highlight of my week to get up and workout with our group of woman who gather in the beauty of Washington Park in NW Portland rain or shine. Each workout is different, they are all fun and they always set the day off to a great start. What ever level of fitness you are at Jenn knows how to make it work. I have gained not only strength over the last year, but confidence in my ability as well. I totally recommend her and any of her classes!!  (Forefront of picture)
 Jenna Krevosky
I have been participating in Jenn's classes for two years now. Jenn is an outstanding trainer. Every workout is different; incorporating different exercises and activities which focus on strength building, stamina, agility and balance. Jenn's classes are exciting, fun and interactive, without being competitive. Every participant is encouraged to go at their own pace and Jenn will even individualize certain exercises if needed. All levels of ability will feel comfortable in Jenn's class. I look forward to every class and feel great afterwards! Join us!
 Holly Tencer
I have participated in Jenn's classes, but mostly worked out on my own with the programs she has written/created for me. I love my new workouts–they are varied, challenging and tailored for me. They keep me on my toes and help to develop strength, balance, stamina, and work on my weaker areas. Jenn worked with my specific needs and requirements to make a program that suits me.
Deirdre O'Brien
Jenn is a great trainer. She makes her workouts fun with varied exercises, individualization, and always an amusing story or two. I appreciate her dedication to working out outdoors. I would highly recommend her to anyone looking to be active.  (2nd from right of picture)
 Andrea Milano
Jenn is a fantastic trainer and coach. She doesn't just tell you what to do – she does it with you. And it doesn't matter how big or small the class is, I feel as though she is paying attention to my needs along with everyone elses. She keeps our brains working along with our muscles, and makes every workout Fun! Over this past year, Jenn has taught me so much about how to stay strong, well-balanced, and motivated. She supports those of us that are competitive, by cheering us on and making sure we are ready to race when the day comes, and celebrating our successes. PEAK Fitness NW boot camp is the best part of my week and every one of my friends that I've recruited has loved it. Try it – you'll love it too! (Pictured running)
Ski Conditioning Client Testimonials: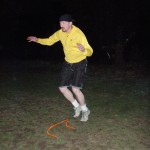 "Jennifer was instrumental in helping me shed over 30 pounds and get to a fitness level where I felt confident enough to try for a position on the premiere National Demonstration Team of PSIA.  I have maintained my fitness level and continue to tune up for an even better level of fitness.  As a current member of the PSIA-NW Technical Team I need to be at my best fitness level to handle every challenge of teaching and skiing at the highest levels.  Jennifer has a superb understanding of fitness and the body and can create custom programs for every individual.  As she is a highly accomplished ski instructor she is also keenly aware of specific movements and skills required for effective skiing performance which helps her tailor fitness training for ski athletes." Rick Lyons, Mt. Hood Meadows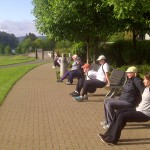 "My strength and endurance are the strongest they've been in more than ten years.  My balance and agility are close to how they were when I was ski racing in college.  Thanks to Jenn my first day back to skiing this year in foot-deep Oregon powder was wonderful.  I was not at all sore or tired afterwards.  I've also enjoyed playing indoor soccer, an all-day yoga seminar and daily workouts that leave me inspired for more!" Kirsten Klug, Ski Conditioning client for 10 years, 2nd from right of picture
"I love the variety of tasks that Jenn incorporates, sometimes the sheer number of different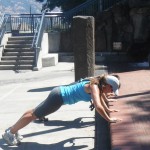 things we do in a class astounds me!  I get challenged on so many levels.  This class has shown me that there are about a million more ways to torture myself than I had already thought of!" Holly Tencer, Mt. Hood Meadows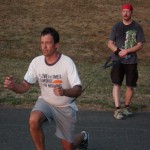 "Thanks to PEAK fitness NW my ski season was off and running months prior to the season's first snow.  The variety of exercise, creative drills and focused instruction that Jennifer brought to each session was inspiring.  Jennifer's class is an intense and results oriented workout." Greg Chase, Timberline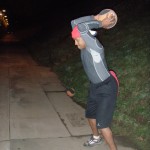 "I never thought the workouts were going to be as intense as they turned out.  Even though, I know we get out of workouts what we put into workouts.  It is great having a knowledgeable trainer giving a sometimes large group of individual's personal attention; you are good at what you do!   Thanks again for the workouts." Darwin Arnold, Mt. Hood Meadows
Ski Conditioning Post Workout Comments:
Thanks for the great workout I had a lot of fun and tried to get as much as I could out of it. I'm going to try to make most/all of the workouts.  Matthew Aimonetti
Yesterday was fun and I'm not sore this morning, so I take that as a good sign. I did have a bit of lactic acid build up in my leg muscles last night.  Sue Overby
Last night was great!  Leilani Gibson
Monday was great workout, reminded me of college ski racing training. The best part was that I just got to do it, not be the coach and the performer. : 0 ) Kirsten Klug
The workout was awesome and look forward to next time!  Chris Combs
Thanks–we even found a great taco stand on the way home to refuel at.  It's going to become a standing date.  🙂  While the rain didn't kill us, we were totally in bed by 10pm–so tired!!!   Katie Breene & Scott Korn