In 12 days the Christmas holiday will be upon us with New Year's following 7 short days later!  The holiday season is already in full swing at our household – decorating the Christmas tree, crafts with the boys during cancelled school day, shopping, baking, cleaning…the list goes on.  As each day approaches time moves more quickly, stress begins to mount and our yearly best practices of staying hydrated, exercising regularly and making healthy nutrition choices begin to fall to the wayside.
Here are my 5 Tips for Holiday Success:
Have a plan.  You have a choice, today – you can finish 2013 STRONG or you can let the "busy-ness" of the holidays take a grip on you.  Choose to finish the last 19 days with MO-MENTUM that will launch you into the New Year.  Set a goal for the next 19 days that address these three topics:  exercise, nutrition and stress management.  As an example, here are mine:  exercise DAILY for a minimum of 30 minutes; replace one meal a day with a meal replacement shake (my choice, Shakeology – 150 calories, up to 18 grams of protein and packed with nutrients!) AND drink half my body weight in ounces of water each day; for stress management I will chose to go to bed at 11pm, rise at 6am (adequate sleep restores your energy and optimism), gratitude journal for 10 minutes each day.
Seek Out Adventure.  Do something FUN, an activity you love to do and/or something NEW….the choices are endless.  Watch the Christmas ships as you walk the waterfront, go skiing, sledding, snowshoeing, Christmas caroling (I never did this as a child and look forward to caroling with my son and his friends at The Homestead Schoolhouse each season), stroll down Peacock Lane (a Portland, OR neighborhood decorated for the season).  An adventures will be a refreshing break from the hustle and bustle of things that "must" be done.  I'll be hitting the slopes on the weekends with colleagues, friends and family; playing in the snow and mountains with my boys and many more of the above listed activities!
Drink plenty of water.  Although the cold weather may make you less inclinced to grab a glass of water, it is as important in the winter as it is during the summer.  Water helps counter the dehydrating effects of travel or drinking alcoholic beverages, and it may also help satiate your appetite since thirst is often mistaken for hunger.  My goal (as stated above) is to drink half my body weight in ounces of water each day.
Watch the BLT's.  Bites, licks and tastes should not be a license to eat everything that passes by.  Say "NO THANK YOU" to the food items that you can eat any day of the week – chips, crackers, cheese.  Instead, say "YES" to food items that are unique to the holiday.  At our house that may be fudge, carrot pudding and shrimp dip.  These days, due to consistent changes in my daily nutrition – a small amount of these holiday indulgences go a long way!  Remember, each BLT can add up – so have a limit.
Exercise DAILY!  In years past I have recommended that my clients decrease their exercise to one day per week in a holiday period..and maintain their results…as long as they got back to their routine the following week.  This year my approach is exercise a minimum of 10 minutes per day.  The benefits can have a positive "snowball" effect to your day:  you'll burn calories (at a time of year when you often intake MORE calories), relieve stress and elevate your endorphins and mood, take in fresh air and time for yourself.  As a friend or family member to join – it's always more FUN exercising with a partner – you can burn calories, visit and spend quality time together!
Keep things simple, sweetheart!  The K.I.S.S. principle is a great approach to successfully surviving the holidays.  Everything in moderation – 80% of the time continue your yearly best practices and 20% of the time indulge in the holiday spirit.  In taking this approach you will have a PLAN to follow through the holiday and into the New Year helping to release much of the holiday stress and accelerate you into the New Year.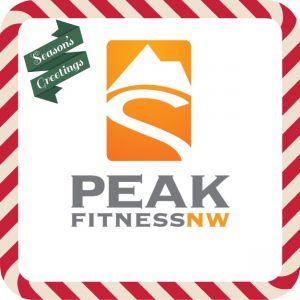 Additional holiday success tips can be seen on my Facebook LIKE page at www.facebook.com/PEAKfitnessNW.   Jennifer is the owner of PEAK fitness NW and 20 year Certified Personal Trainer & Health Coach.  This fall she launched her 12-week PEAK Ski Conditioning program, a time efficient and effective athletic conditioning program specific to skiing.  Receive new ski, fitness, health and nutrition tips weekly by sharing your name and email to the right side of this blog!