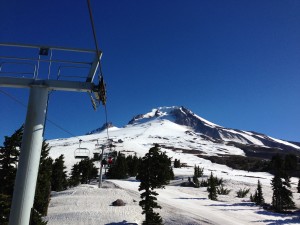 The ski season kicks off this weekend for me at Timberline Ski Resort, Oregon.  As I filter through topics to blog about this week – the thing that keeps cycling through my mind is "What do I have to pack to take up to the mountain with me?"  Seems like such a simple question – especially for someone who has been skiing for 40 years and teaching for 10…..BUT it never fails – I ALWAYS forget something the first day on the snow!
First, you should understand that in order to keep life moving forward in "orderly" chaos – I compartmentalize things.  So my first attempt at writing my Top 10 List of things to NOT FORGET was made up of these things: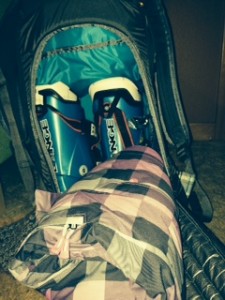 Top 10 List for the First Day Skiing
Skis & Poles (poles are NOT a separate item because I can ski without them!)
Boots
Pants
Jacket (shell), puffy jacket, nano vest
Socks
Gloves
Long underwear
Goggles
Helmet
Ski Pass
Once compiled,  I reviewed the list and felt satisfied that I had not forgotten anything.  So, I turned to my ski patrolling husband and asked him what his Top 10 List of Things to Remember for the First Day Skiing:
Be sure to bring everything
Don't hurt yourself
Remember to put your sno-park sticker in your car
Pace yourself
Test out your new gear
Don't hit any rocks
Don't crash your car
Ride every lift
Help someone on the hill
Smile & Have FUN!
My first reaction to my hubby's list was "Duh, of course, bring everything!  What is EVERYTHING?"  His second item, "Don't get hurt." seems equally forehead striking.  Yet, it made me think.  Over the last month, I have witnessed many skiing folk biting at the bit to slide down the mountain – Crystal Mountain, WA opening on October 1st; people hiking resorts at first snow fall to make first tracks.  All of this is AWESOME and FUN – with the gentle reminder to take it easy, respect the mountain, get your skis back under you and slide safely – if we're lucky we have six months of the white stuff to enjoy!
A few more to elaborate on:
Pace yourself:  warm up before you ski down the slopes, ski a few gentle terrain runs, vary your turns from short and quick to long and slow, balance on 1 ski, gently hop ski to ski.  Like all sports you will perform better if you allow your body to warm up and practice the fundamental movements – wedge turns to parallel turns would be similar to dribbling up and down the basketball court and then dribbling and shooting a layup.
Assess the terrain.  There are always unmarked obstacles to be aware of – especially early season.  Be cautious and observant your first run down terrain.
Tis the season to be thankful, grateful, caring and giving.  PLEASE ski and snowboard safely.  Give each other space.  Remember that those ahead of you have the RIGHT of WAY (they do NOT have eyes in the back of their heads nor review mirrors); obey all posted signs – when you duck rope lines you are potentially putting yourself at risk (and my husband/patrollers); stop where you can be seen; ski with a buddy; stay clear of tree wells.  And if you see someone down – lend a helping hand.  You just never know the struggles someone may be having; assistance from a stranger could just help them get safely down the hill.
Last and most important – HAVE FUN!  Ultimately, that is what it is all about!  Enjoy the drive to the e mountain – the change from fall autumn leaf-lined roads to trees blanketed in fresh, white snow.  Breathe in the crisp, cool mountain air and exhale all of your work week worries.  Drink in the energy from the outdoors and the many other passionate winter sport enthusiasts and make this YOUR BEST YEAR EVER!
As I wind down from the work week, have the skis and poles in the car, my boot bag packed and my clothes laid out for the early morning – I'm feeling confident that for ONCE – I have NOT forgotten anything (I hope, LOL!)  We all have our lists and they will, likely, not stop at 10.  These are two to help you begin planning for your first day on the snow this season.  Help us ALL out by sharing with me your TOP 10 to Remember List for the first day on the snow over on my Facebook business page:  www.facebook.com/PEAKfitnessNW
Jennifer is the owner of PEAK fitness NW and 20 year Certified Personal Trainer & Health Coach.  Her 12-week PEAK Ski Conditioning program LAUNCHED last week!  No time to workout?  GREAT!  You can perform this program ANYWHERE – at home, in the gym or outside; comprised of 36, 30 minute ski-specific athletic conditioning workouts performed three days a week – it is EFFECTIVE and TIME efficient!  ONLY two more programs are available at the low launch rate of $50 (valued at $1500!)  Find all the details at this link:  https://www.peakfitnessnw.com/news/peak-ski-conditioning-launch
Fall PEAK fitness NW Ski Conditioning programs are offered on Mondays, 6pm, Mt. Tabor and Thursdays, 6pm, Durham – in the Portland Metro area!  Go to www.peakfitnessnw.com/events to register and/or for more information.  If you have any questions on how you can kick-start an active lifestyle that incorporates the outdoors contact Jennifer Lockwood.  She can be reached at jenn@peakfitnessnw.com or 503.913.8385