Funny what you unearth when you're cleaning.  This fall I have been cleaning and organizing, preparing myself and the family for our CRAZY winter activities and to finish 2013 with best practices in place (more on that later).  Actually, I KNOW that I have an envelope full of letters from my parents  and dear friends…………I keep them tucked away when my spirits need to be lifted.  The one I am going to share is full of wise words from my dad.  I'm not sure I fully appreciated it as much 23 years ago – but I love it now and look forward to sharing it with my boys when they are older.  I hope that everyone reading it will take something away from it that will help improve their life.
A letter from a LOVING Father (mine) to a college bound Daughter (me):
Dearest Jennifer Leann,
The nicest thing a Mom and Dad can pass on to their children is a condensation of their lifetime of experiences, so that their children can learn earlier than they would on the normal road of hard knocks.  So here you are; a lifetime of wisdom on one page (reading time one minute).
Develop a set of values; honesty, pleasantness, dedication to goals, etc!  And try to live up to them at all times, never give up trying to improve your success rate; above all be honest with yourself – make sure you can except the consequences of your actions and decision in advance.
Continually remain cognizant of the fact that everyone has problems that will lower their resistance and/or raise their sensitivity; try to avoid aggravating yourself and others.  This will improve your opportunities, increase your success rate, lower stress levels, and generally improve yourself image.
Be alert to dangers; drugs, booze, and interpeople interactions can be devastating.  Any drug use is in my opinion the height of stupidity, alcohol can be just as bad and in combination with autos can destroy your life.  People interactions are also very risky – family tragedies, unplanned pregnancies, and regrettable actions.  All of the latter is in your complete control and will on my occasions test your VALUES.  Be very careful when you trade off values or lower the priority of a value.
Reliability is a characteristic or value that is highly prized in work and social worlds.  Bosses are proud of and thankful for employees that can be counted upon to do what is agreed upon on the schedule planned.  PS.  Good people are highly valued and have considerable respect of bosses.
Try to keep things in proper perspective – be intense in competitive activities, but recognize that others may and do rank their activities different from your rankings.  Try to be flexible; sometimes better, everything considered, doing it the other guys way.
Finally, be humble, values-oriented, and non-materialistic; be versatile, flexible; have a plan; have fun; and get a good education in something you like and that is acceptably rewarding.
With very much love,
Dad 8/24/90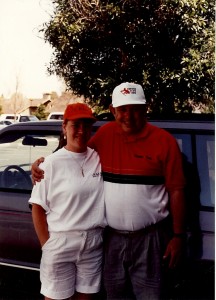 WOW!  What a wise man I was fortunate enough to call my DAD!
Amazing how a letter can lift your spirits.  We all have struggles.  This summer has been a challenge for me juggling family life, a business and developing a project.  "Keeping things in perspective", I've achieved a lot this summer all while having fun with my family…something that would make my Dad proud.  However, I have room to improve and that is my intention for the remainder of 2013.
There remain 74 days in the year 2013.  What will you do in the next 74 days to finish strong?  This past Monday, October 21st to my 44th birthday is 66 days – my present to myself is to put in place BEST PRACTICES to start my day.  Why wait until the New Year!  Please read the link to my Todd Durkin Mastermind Colleague, Mike MacDonald's blog titled "What If?":
http://www.mikemacdonald.co.uk/what-if/
Best Practices to Finish 2013 with Tenacity:
Early to rise, 6am.  See below for a great video from author, Robin Sharma on how to join the "5 AM Club"….my initially go is 6am – baby steps.
http://www.extremeachievementformula.com/fe/54867-how-to-wake-up-early
Exercise daily
Review my to-do list for the day, written the night before
Eat breakfast
Journal, 10 minutes/day
Be in bed by 11pm
Now it is YOUR turn to DECIDE how you will finish 2013 Strong and hit the doors of 2014 running!
Share with how you are planning to finish strong on my Facebook Business Page, we can hold each other accountable!
http://www.facebook.com/PEAKfitnessNW
Jennifer is the owner of PEAK fitness NW, 20 year Certified Personal Trainer & Health Coach and 10 year PSIA-NW Ski Instructor and author of the upcoming "PEAK Ski Conditioning" program.  Receive a demo PEAK Ski Conditioning workout at the link below:
http://www.peakskiconditioning.com
FAll PEAK fitness NW Ski Conditioning programs have begun, in the Portland Metro area!  You can still get fit for the slopes!  Go to www.peakfitnessnw.com/events for all the details!  Receive new ski, fitness, health and nutrition tips weekly by sharing your name and email to the right side of this blog! If you have any questions on how you can kick-start an active lifestyle that incorporates the outdoors contact Jennifer Lockwood.  She can be reached at jenn@peakfitnessnw.com or 503.913.8385.