Summer is a great time of year to experiment with new recipes!  Fresh fruits and vegetables, warm summer nights.  I am always running out of ideas for meals and the meals I always think of are from my childhood days.  My meals growing up where always well balanced – all the food groups represented.  Our meals were very traditional – my father was a meat and potatoes kind of guy!   So, I've decided to expand my recipe file and add some great clean eating recipes that the entire family will enjoy.  At the beginning of the month I decided I would cook, at least, one new recipe a week.  Here are a few of my new favorite recipes and the health benefits that ingredients provide you: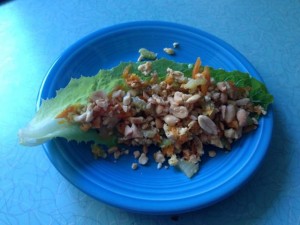 Asian Chicken Lettuce Wraps With Crushed Peanuts
Ingredients
1T EVOO, improves cholesterol levels, lowers blood pressure, minimizes diabetes complications and decreases risk of heart disease and cancer
1tsp toasted sesame oil
1 garlic clove minced, can help lower blood pressure & the risk of some cancers.  Skiers!  Garlic thins the blood – so it could help with altitude acclimatization.
1 tsp ginger minced, can help with nausea, has anti-inflammatory effects & may combat cancer & heart disease
1 celery stalk, chopped
1/2 cup shredded carrot, great source of vitamin A to protect eyesight, cancer fighter and helps to lower blood cholesterol
5-6 oz ground chicken, great source of protein with limited saturated & total fat, cholesterol & calories
Salt
Pepper
3 large leaves romaine lettuce, cold
2 T peanuts crushed
Directions
Heat oils in skillet over medium heat.
Add garlic & ginger, sauté for 5 min, stir frequently.
Add celery, carrot & chicken, cook 5 min or until chicken is cooked.
Season with salt & pepper to taste.
Spoon mixture into cold romaine lettuce leaves & sprinkle with peanuts.
Tip
I used ground turkey.  It tasted great; however, I think this recipe will be more flavorful with ground chicken.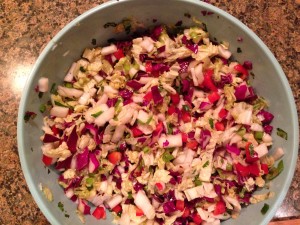 Asian Peanut Slaw With Pork
Ingredients
1/4 cup canola oil, you could substitute with EVOO
1/4 cup lime juice, loaded with vitamin C which is linked to lower blood pressure, heart disease and cancer and is a great meat tenderizer
2 T soy sauce
2 T sugar
1 tsp chile flakes
4 boneless pork chops, lean meat that is loaded with vitamins and is lower in cholesterol than chicken
2 cups shredded Savoy cabbage, I recommend regular green cabbage2 cups red cabbage
1/2 cup cilantro chopped
1/2 cup sliced red peppers, more vitamin C than citrus fruit, loaded with vitamin A which support the immune function & protect from cell damage, inflammation, cancer and aging diseases.
1/4 cup sliced green onions
1/2 cup roasted in salted peanuts
~ 1/4 tsp salt
~ 1/4 tsp black pepper
Directions
Preheat broiler.
Mix oil, lime juice, soy sauce, sugar & chile flakes.
Put pork in bowl & add 3T dressing, broil for 7 min/each side.
Combine all slaw ingredients.
Season with salt & pepper.
Serve slaw topped with chop.
3T low sodium soy sauce
1T balsamic vinegar
1/2 cup EVOO
1 tsp curry powder, aids digestion, bloating & gas, reduces inflammation and prevent plaque buildup in the arteries that cause heart attacks & strokes
2T honey
Directions
Combine all in a blender.
Add 1T water & blend.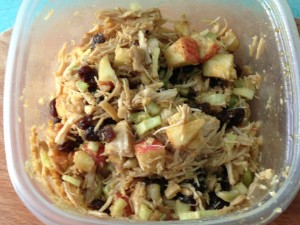 Chicken Salad With Raisins & Apples
Ingredients
1/3 cup raisins
5-6 oz shredded chicken
1 small apple cubed, heart health, lower cholesterol, prevents some cancers & stimulates your gums for a health smile
1 celery stalk diced
2T toasted pumpkin seeds, a rich source of protein – 6 grams/ounce, low in fat, good fiber source, helps keep blood cholesterol levels down and plays an important role in muscle contractions, blood clotting & regulating blood pressure.
Directions
Soak raisins in warm water for 10 minutes.
Combine all ingredients & add curry dressing.
Tip
This salad tastes great on a whole wheat pita pocket.
What I like best about each of these recipes is that you can make a nice big batch and have it for dinner one night and lunch the next day.  These items will travel well, too.  So a great option to take up to the mountain in the winter.  Each salad has such great flavor and aroma to them that if you fixed them up in the winter it would remind you of summer.
My ski friends rave about my hummus recipes.  Hummus is so easy to make, easy to pack up and take with you.  When we are on the mountain teaching lessons we need easy to grab food when our lunch breaks are short.  Hummus is perfect just add any vegetable or your favorite "healthy" chip – our favorites are carrots, cucumbers, snap peas, celery, broccoli and cauliflower.  Team up hummus (protein) and veggies (carbohydrates) for a great healthy mid-day snack!  As for chips – I love the quinoa  or sweet potato tortilla chips at Trader Joes and their sesame rice crackers.
Hummus
Ingredients
2 cups garbanzo beans, drained, beans lower risks of heart disease and some cancers, protein and iron source for people who do not eat meat
1/3 cup tahini
¼ cup lemon juice, vitamin c source to help heal wounds, grow and repair blood vessels, skin, cartilage, ligaments, tendons, bones and teeth, as well as, fight off heart disease, inflammation and cancer.
1 tsp salt
2 cloves garlic
1 tablespoon olive oil, drizzled over mixture
1 pinch paprika
1 tsp minced fresh parsley
Directions
Blend the first 5 ingredients until smooth.
Drizzle the last 3 ingredients over hummus.
Tip
Spice it up for summer!  Add a palmful of cilantro and 1 seeded jalapeno pepper.  Or try basil!
Black Bean Hummus – My "Chicks on Winter Sticks" All Time Favorite Recipe
Ingredients
1 clove garlic, minced.  I always add more….
15 ounces black beans, drained and save the liquid
2 tablespoons lemon juice
1 ½ tablespoons tahini
¾ teaspoon cumin
½ teaspoon salt
¼ tsp cayenne pepper
¼ tsp paprika, as a garnish
10 Greek olives, as a garnish
Directions
Blend all the above ingredients and add 2 tablespoons of the reserved black bean liquid.
My most used and favorite recipe is "Easy Lime Marinade"; it can be used for chicken, fish or shrimp.
Ingredients
1 garlic clove, minced.  I always add more!
2 limes, juiced
1 tablespoon extra virgin olive oil
1 tablespoon honey
2 tablespoons soy sauce, or Braggs Amino Acids
Salt, to taste
Ground Pepper, to taste
Directions:
Wisk the above ingredients until they become blended.
Pour over your meat and let sit for 15-30 minutes.
I hope that you enjoy these recipes.  I selected these because they taste great, are healthy and do not take a lot of time to prepare.  Perfect for hot summer nights, yet, will taste great on the mountain this winter for my lunch breaks.  Let me know what you think!
I encourage you to expand your recipes over the remainder of the summer.  Challenge yourself to try one new healthy recipe a week; you have six more weeks of summer for adventures in your kitchen!  If you are looking to make changes in your health and fitness – 70-80% of your results will come with changes made in your nutrition; and these changes happen in YOUR kitchen.  Arm yourself with a food processor or blender and you can mix up each of these recipes in under 15 minutes.  When you find an awesome recipe share it with us over on my Facebook Business Page:  www.facebook.com/PEAKfitnessNW.JenniferLockwood
Jennifer is the owner of PEAK fitness NW, 20 year Certified Personal Trainer & Health Coach and 10 year PSIA-NW Ski Instructor and author of the upcoming "PEAK Ski Conditioning" program.  Receive new ski, fitness, health and nutrition tips weekly by sharing your name and email to the right side of this blog!
Summer PEAK fitness NW Ski Conditioning programs have begun, in the Portland Metro area!  You can still take advantage of the 2 for 1 Outdoor Fitness Training special.  Go to www.peakfitnessnw.com/events for all the details!  August sessions begin the week of August 5th; no classes the week of July 29th.  If you have any questions on how you can kick-start an active lifestyle that incorporates the outdoors contact Jennifer Lockwood.  She can be reached at jenn@peakfitnessnw.com or 503.913.8385.