VACATION, vacation, vacation!  I'm hearing everyone talking about vacations and I'm headed out the door for 9 days at the family cabin, again!  Along with everyone sharing their vacation plans people are also mentioning how they won't have time to fit in a workout.  I've been there.  I mean isn't vacation….vacation – time to sit your bum in the water, toes in the sand, beer in your hand and just chill out?
Sounds GREAT, right?  Until you return home and although you may be refreshed mentally – you've let your physical fitness go down the drain.  Don't get me wrong – I want you to have fun and I do not intend for you to spend 90 minutes a day exercising on vacation.  What I challenge you to do is, at a minimum, complete a 10 minute workout every other day while on vacation – and see how you feel at the end.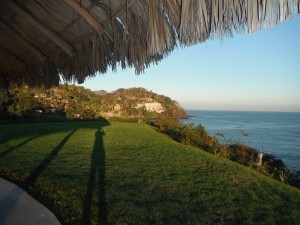 The last two years my mother has taken our family to Mexico for a winter vacation.  And almost every day, at least 80% of my vacation, I got up in the morning at 7am, walked through the beach side town of Sayulita to a hilltop palapa overlooking the Pacific Ocean for a 60 minute Yogalates or Power Ropes (TRX) Strength class (all while watching whales jumping!)  and then walked or jogged home along the beach.  These two vacations were the most GUILT-FREE vacations, EVER!  I worked hard in the morning so that I could enjoy that margarita or cerveza under a palapa watching the waves break on shore.
Four weeks ago, I was vacationing at the family cabin and started my mornings out with at least a 60 minute paddle boarding session on the lake!  What a treat.  It wasn't the most strenuous exercise – it was a great balance session combined with breathing, relaxing and enjoying the beauty – water, trees, blue skies, eagles, birds…………..and QUIET.  Where ever you go on vacation – find a way to fit in some exercise – it could be something new like paddle boarding, mountain biking, hiking or a quick 10 minute routine you can do in your room, hotel or on a dock.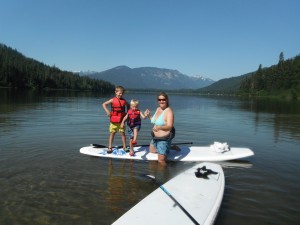 Check out this video for a great total body strength exercise combined with a cardio move to get your blood flowing and your heart pumping:
Strength Move (body weight or dumbbells) 30-60 seconds:
Squat Down > Hop to Plank > Pushup (knees or toes) > Row > Mountain Climber > Hop to Hands > Squat Up > Bicep Curl > Overhead Shoulder Press
Cardio Move (rock, step, stair) 30-60 seconds:
Fast feet, 10 seconds > Run up & down, 10 seconds > Squat Jump, 10 seconds
Repeat exercises 3-5 times and/or as many cycles as you can complete in 10 minutes.
I forgot to mention:  THIS IS GREAT FOR SKIERS prepping for the upcoming ski season.  This exercise addresses all muscles used in skiing:  quadriceps, hamstrings, glutes, abdominals, chest, shoulders, triceps and back!
You have set goals; you have been exercising regularly; you have been eating healthy – why throw it "all away" when you are on vacation.  Stay consistent with these habits while relaxing, playing, laughing and having fun with friends, family and/or loved ones.  I challenge you THIS VACATION to commit 10 minutes first thing in the morning to complete this workout.  If you do – you will FEEL GREAT & PROUD of your accomplishment…while vacationing!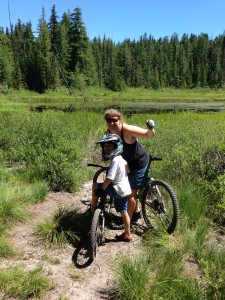 I commit to you to:  paddleboard on the mornings the lake is calm, attempt strength, stretching and yoga exercises on the board; and on mornings the lake is rough I'll be completing my strength workouts, trail runs and mountain biking!  Look to my Facebook business page for updates on my vacation workouts.  Share how you Get Out.  Get Fit. & Have FUN on VACATION!
www.facebook.com/PEAKfitnessNW.JenniferLockwood
Jennifer is the owner of PEAK fitness NW and 20 year Certified Personal Trainer & Health Coach.  Her soon to be released 12-week PEAK Ski Conditioning program will include 36 workouts, 3 per week, lasting no more than 30 minutes each!  If you would like to continue to receive more information and material in her ski conditioning program and fitness, health and nutrition tips weekly by sharing your name and email to the right side of this blog!
New PEAK fitness NW Ski Conditioning programs are beginning, in the Portland Metro area, on Monday, August 5th and Thursday, August 8th!  Go to www.peakfitnessnw.com/events for more information on the August 2 for 1 SPECIAL!  If you have any questions on how you can kick-start an active lifestyle that incorporates the outdoors contact Jennifer Lockwood.  She can be reached at jenn@peakfitnessnw.com or 503.913.8385.