Encourage a Fit & Active Family with "Active" Family Traditions!
Life these days is crazy, fast paced, chasing boys, making meals, training clients, stuck behind a computer, on my cell phone.  Go, go, go!  Too busy to do the things I love to do…..with the ones I love. Do you experience these same feelings?  Traditions can help ground us amidst all this craziness.   Tradition defined is a belief or behavior passed down with a group or society with symbolic meaning or special significance with origins in the past.  Family traditions are defined as a combination of attitudes, ideas and ideals, and environment, which a person inherits from his/her parents and ancestors.  These family traditions can promote a sense of identity and a feeling of closeness, a sense of security and assurance in today's fast, hectic, and ever-changing world.  The first weekend in June is one of our family traditions – participate in the Bavarian Bike and Brews (BBB) Festival in Leavenworth, WA; 10 years of tradition!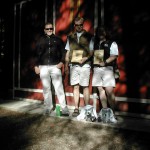 After much anxious anticipation and debating whether to attend the BBB, due to heavy workloads, kids schedule and NO training rides on my mountain bike – WOW – I had a blast!   The race is a challenging 8.6 miles; the first 4.6 are UPHILL for a climb of 1800 feet of vertical followed by a fast twisting and turning 4 mile downhill through the North Central Cascade mountains on a trailed lined with blooming spring wildflowers – lupine, Indian paintbrush, wild daisies, etc.  The reward, aside from the great workout and scenery, is an afternoon spent with family and friends on an organic farm.  Surrounded by forest, hidden from the tourists in Leavenworth, listening to great music and sipping beer.  Our tradition began early on in our marriage; Dan, my husband, his brother and I first participated in 2004 and we became hooked – who wouldn't after Dan placed first and myself, second,  in our divisions.  No one has to know that there were only TWO women in my division that year, LOL!!!  Tradition as a couple has now turned into a family tradition.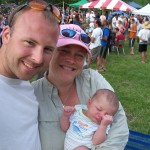 Meaningful family traditions are as valuable now as they were at the earliest times.  They are a valuable tool for parents and elders to carry out the responsibility of raising children and impressing upon them social values and ethos. Family traditions ensure that the warmth and closeness of family bondage grow.   Active family traditions and meaningful participation in them help families to avoid what the social scientists call "entropy".   An "entropic family" is one that loses its sense of emotional closeness because members neglect the family's inner life and community ties.  Our family tradition began three weeks after our oldest son, Kegan, was born.  Dan and my brother participated in the Bike & Brew while myself and Kegan cheered them through the finish line.  Two years later, Kegan, participated in his first kiddies race and was filmed for his first bikumentary appearance (the cute curly blonde haired 2 year old skutting across the teeter totter), Pedal Driven.  Both of our boys have attended the race each year of their life making it six years for Kegan and three years for Kellan.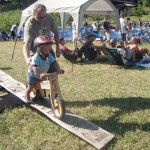 It would have been so easy, last week, to not attend the bike and brew, skip the 5.5 hour drive, packing up the kids and dogs, arriving late and riding early.  Prioritizing what is important in life, to us, helped make our choice easy.  First, we were together as a FAMILY.   Second, we were ACTIVE, together.  Third, we were OUTSIDE playing (away from technology), together!  Fourth, we were having FUN, together.  And, fifth, it was TRADITION.  The Journal of Pediatric Health Care states, family traditions provide continuity and security, which gives both children and adults a sense of belonging and commitment.  Last weekend, I was so proud that as a family we JUST DID IT – who knew that the family tradition has such proven benefits for a healthy family!
A week of nerves and doubt were put to rest by sticking to our priorities and staying committed to family traditions.  William Doherty, a social scientist explains in his book "The Intentional Family" that as family bonds are weakened by busy lifestyles, families can stay connected only by being intentional about maintaining important rituals and traditions.  I definitely feel more refreshed, recharged and more connected with my family after this weekend!
What are your family traditions?
Do you have or can you add activity based family traditions?
I'd love to hear what you and your family do!  Share them on my PEAK fitness NW Facebook business page:
https://www.facebook.com/PEAKfitnessNW.JenniferLockwood
Here are a few of our family traditions – a mix of symbolic traditions passed down through generations & what I call "active" family traditions: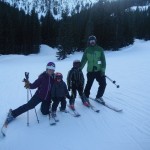 We ski or mountain bike on our birthdays
At the cabin after  we wake up in the morning we go for a walk or mountain bike ride out our front door
Annual Fall Fun Run
Thanksgiving "Burn the Bird" Charity Workout
Walk along Peacock Lane (houses decorated for the holiday), before Christmas
Carrot pudding after Christmas dinner
Egg Evaluation casserole for Christmas breakfast
After the meal prayer,  at my in-laws, we do "Grandma" squeezes
On Sunday as we rode our mountain bikes, as a family, down the trail two women on horses said "Great job parents – riding outside is way better then the kids behind a computer inside!"  Today our children move less, watch more TV, play on the computer, eat poorly; as adults and parents we are "busy".  Incorporating family traditions that are outside, active and together can nurture the family relationship, enhance health, improve fitness and is a priceless way to recharge the "everyday" crazed life battery while establishing life-long habits, too!  Now it is your turn to Get Out.  Get Fit. Have Fun!
Jennifer is the owner of PEAK fitness NW, 20 year Certified Personal Trainer & Health Coach.  If you have any questions on how you can kick-start an active lifestyle that incorporates the outdoors contact Jennifer Lockwood.  She can be reached at jenn@peakfitnessnw.com or 503.913.8385.  Outdoor Fitness Training classes are currently available in the Portland Metro area.  https://www.peakfitnessnw.com/events