Snow is beginning to dust the mountain peaks of North America.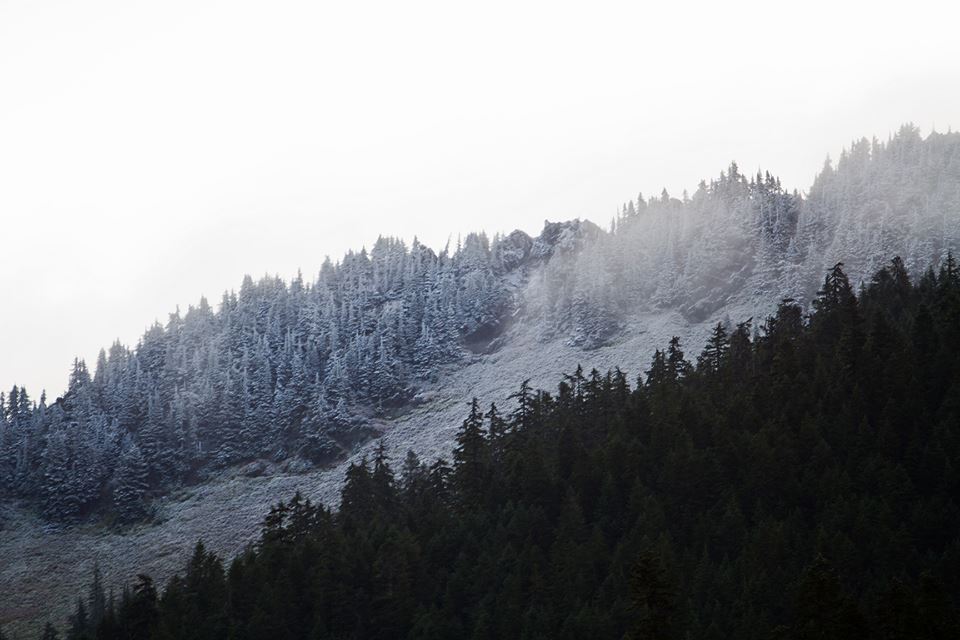 Stevens Pass, Washington (photo from Stevens Pass Mountain Resort Facebook Page, 9-24-13)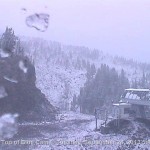 Along with speckled white mountain tops – ski movies, too, are a signal that the upcoming ski season is  around the corner.  Ski movies stoke the spirits of skiers and snowboarders alike.  Like kids with "ants in their pants" – skiers start getting excited; skis come out of racks to be tuned, boots and clothing dusted off – all being lined up for that first day sliding down the hill.
Below you will find the links to most ski movies hitting the tour circuit in North America.  I'm listing the dates, locations, times and cost of those landing in the Portland Metro area.  If you are located outside of Portland, hit the links to find dates and times nearest to you.  Please, confirm all dates, times and locations prior to attending any movie listed in this blog!
Wishing you all a superb visual experience of life in the mountains – sliding, jumping, hucking, whooping & cheering – in anticipation for your first day of the 2013/14 Ski Season!
TGR:  Way of Life
For some, embracing the mountains is not just part of life—it's a way of life. The search for snow shapes not only how they approach these peaks, but also how they approach the world. And whether athletes spend their days dropping first descents in Alaska, lapping the local mountain, or training for the Olympics, they're part of a community built around a shared passion. The bonds that form from this community transcend continents and cultures, transforming strangers into friends. After all, a smile on a powder day needs no translation.
Shot on location in 2013, Teton Gravity Research's Way of Life takes you on a journey to the mountains and inside the minds of today's top athletes. With stunning imagery created with GSS, Red Cinema, and the Sony Action Cam, this film explores the origins of skiing in Austria, the search for original lines in Alaska, and the U.S. Freeskiing Team's quest for Olympic gold. The adventure also leads athletes to the rugged terrain of Jackson Hole and the Tetons, as well as the backcountry of British Columbia. Regardless of the terrain they ride, the athletes featured in Way of Life push the boundaries of what's possible. This journey takes them across the globe as they form a brotherhood that needs no language.
October 4th @ 6:30 & 9:00pm, Wonder Ball Room, $12+ (variety of pricing available for all ages)
Portland:  http://www.tetongravity.com/films/way-of-life/tour/event.aspx?tid=1339
North America:  http://www.tetongravity.com/films/way-of-life/tour/
MSP Films:  McConkey Tour
McCONKEY, a much anticipated feature-length documentary, is a heartfelt examination of the legacy one athlete left to the progression of his sports, and the path he paved to conquer his dreams. Shane McConkey is revered as a pioneer of freeskiing and ski-BASE jumping, and through his talent and ability to use his trademark irreverent humor he inspired countless lives. In a film from Red Bull Media House in association with Matchstick Productions, McCONKEY celebrates the life of one of the world's ultimate innovators. Proceeds from the film will go to a trust set up for the McConkey family.
Starring legendary athletes Shane McConkey, Sherry McConkey, J.T. Holmes, Glenn McConkey, Jim McConkey, Jonny Moseley, Miles Daisher, Travis Pastrana, Bob Burnquist, Mike Douglas, Kent Kreitler, Scot Schmidt
"What makes McConkey such a phenomenal doc, aside from all the endless amounts of footage, is how much it transcends simply being a profile piece on this person and becomes inspiration for any and everyone watching it…There's a great line in the film from skiing legend Scot Schmidt, who explains that people like Shane don't live like everyone else. Instead, his mentality is "I'm not afraid of death, I'm more afraid of not living fully." -FirstReviews.net
"What is perhaps most remarkable about McConkey is how much potential it has to appeal past the extreme sports set. The film is about that one-in-a-million drive that pushes some people beyond the boundaries of what anyone had previously dreamt possible. Few films so succeed in showing us what makes someone like that tick." -Twitch.com
"It's a documentary rooted in action. Shane fans will appreciate everything from his first backflip off the Palisades to his revolutionary Alaskan descent on water skis." -Freeskier
Monday, October 7th @ 8pm, Newmark Theatre, $17.25+
Portland:  http://www.skimovie.com/index.php/individual-tour-dates/portland-or/
North America:  http://www.skimovie.com/index.php/tour/schedule
Sherpas Cinema:  Into the Mind
This is a story of rising to the ultimate challenge. Having the courage to risk fatal exposure and the perseverance demanded on the quest for achievement. These are not solely physical feats, they are mental conquests.
From the creators of the award winning film "All.I.Can", Sherpas Cinema is proud to present their newest feature film, Into The Mind. With stunning cinematography and groundbreaking storytelling techniques, the Sherpas blur the lines between dream state and reality, and immerse you into the mind of a common skier as he attempts to climb and ski the ultimate mountain. Innovative athlete segments are actually a glimpse into his dreamscape, each one harboring messages that help inform our hero's current, real-life choices. As you experience the majesty of Alaska, Bolivia, the Himalaya and beyond, Into the Mind paints a philosophical portrait of human kind. How do we balance risk versus reward? Why are we inspired to rise to the challenges in our lives and what do we learn on this journey to attain them?
Tuesday, October 8th @ 7pm, Gerding Theatre @ the Armory, $15+
North America:  http://intothemindmovie.com/
Warren Miller's:  Ticket to Ride
Ticket to Ride will give film-goers access to the most sought-after destinations including the Alaskan Tordrillos, Iceland's Troll Peninsula, fjords of Greenland
and the expansive Big Sky country of Montana, to name a few. The film showcases world-class athletes such as Sean Pettit, Ted Ligety, Seth Westcott and Jess McMillian, all leaving tracks beneath, and above, the world's wildest terrain.
Once again, winter begins with Warren Miller. The film will debut at the World Premiere event at Abravenal Hall in Salt Lake City on October 11, 2013 at 8:00pm. Athlete appearances, live music, pre and post parties to be announced. Take a cinematic journey and celebrate the start of the season at one of the 200+ film screenings nationwide.
Friday, October 25th, 2013 @ 7:30pm, Alene Schnitzer Concert Hall, $20+ all ages
Sunday, October 27th, 2013 @ 8:00pm, Aladdin Theater
Portland:  http://www.skinet.com/warrenmiller/events/97206
North America:  http://www.skinet.com/warrenmiller/events?gclid=CJjanuuv5bkCFeqDQgodsVwAew
Poor Boyz Productions:  Tracing Skylines
Portland dates to be announced
North America:  http://www.poorboyz.com/tour
Wishing you all a superb visual experience of life in the mountains – sliding, jumping, hucking, whooping & cheering – in anticipation for your first day on the snow.
Jennifer is the owner of PEAK fitness NW and 20 year Certified Personal Trainer & Health Coach.  Her soon to be released 12-week PEAK Ski Conditioning program will include 36, 30-minute ski-specific athletic conditioning workouts for never-ever skiers to Black Diamond Rippers.  Share your email address at www.peakskiconditioning.com and receive a FREE sample workout.
Fall PEAK fitness NW Ski Conditioning programs have begun, in the Portland Metro area!  Join us at Mt. Tabor on Mondays from 6-7pm.   Go to www.peakfitnessnw.com/events to register and/or for more information.  If you have any questions on how you can kick-start an active lifestyle that incorporates the outdoors contact Jennifer Lockwood.  She can be reached at jenn@peakfitnessnw.com or 503.913.8385.