Body Weight Exercises that will Enhance Your Ski Performance on the Mountain
First day on the snow ever feel like this?  Burning quads after your first run, fatigued back, huffing and puffing after one bump run, wobbly legs after only a half day of skiing?  The first few days on snow can be physically challenging and demanding.  We've all been there – especially if you haven't properly trained.  One key component of a ski conditioning program is strength training.
Functional strength is what we are looking to improve – large muscle group, full range of motion, multi-joint and multi-plane exercises like pushing, pulling, squatting, bending, lunging and twisting movements.  As opposed to a seated leg extension or bicep curl machine at the gym which have you seated, isolating one muscle and one joint.  Functional strength exercises are similar to how your body moves on the snow!
Ski performance benefits resulting from a strength training program are: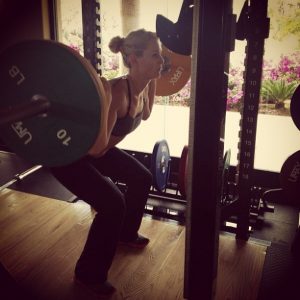 Long range power output without sacrificing precision or effectiveness
Key component/variable to power development
Decrease muscle fatigue in the bumps,
Fight compressive forces of high speed GS turns – strong quads,
Pole across flats – strong shoulders and triceps,
 Stay balanced in crud – strong torso/core
Strengthen muscles surrounding joints which helps prevent injuries
June is the perfect month to begin strength training.  Today I want to introduce you to five of my top strength training exercises.  You can do these exercises ANYWHERE, they require NO equipment and can be performed in under 30 minutes.  These exercises will strength the muscles in the legs responsible for turning, manipulating the skis and managing terrain while we ski and includes the upper body and core that will provide stability, balance recovery and assist in pole plants.
Progressing strength training movements, from easy to more challenging,  is as important to do as it is a for an instructor to first teach a new skier to turn, slow down and stop before progressing them onto the chair lift.  I've developed an easy way to see the level of difficult of the exercises that I am showing you this week – the ski trail map legend: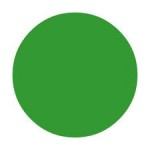 Easier

More Difficult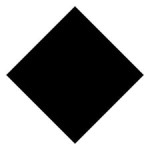 Most Difficult

Experts Only – you must master the base building moves prior to advancing to this exercise level
Strength is developed by increasing the weight lifted and/or the complexity of the exercise.  My goal, as we get closer to the start of the ski season, is to show you more challenging, complex and sport-specific strength building exercises that are similar to these,

versions.
Top 5 Strength Training Exercises for Skiing
1.  Glute Bridge – hamstrings, glutes:
2.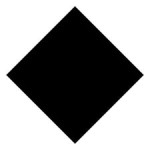 Pushups + Side Plank – chest, shoulders, triceps, core – abs, obliques, back
3. 

Clock Lunge – quads, hamstrings, glutes, inner thigh
Any of the 4 lunges on their own, example = forward lunge
4.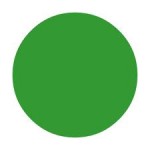 "I – Y – T" Arm Raises – shoulders, upper back and core stabilizers
5.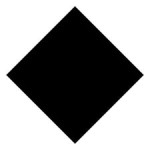 3 Way Mountain Climbers – abs, obliques, core stabilizers
6.  BONUS: 

1 Leg Inverted Hamstring/Russian Deadlift – hamstrings, glutes
2 Legged "Russian Deadlift"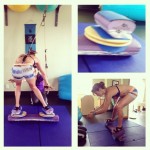 Here is a 30-minute strength building program:
Perform 5-10 minutes of a warmup – simply walking will do!
Perform exercises 1-3 in a circuit, 30 seconds/each exercise: 20 seconds rest between exercises, 3 times
Rest 1 minute before circuit #2
Perform exercises 4-6 (circuit #2), 30 seconds/each exercise: 20 seconds rest between exercises, 3 times
Finish with 5 minutes of stretching.
This time efficient and effective workout when completed three times a week, for four-six weeks will improve your strength for skiing and more sport specific training in the fall.
Sochi 2014 Olympic hopefuls are strength train, too – check out their pictures: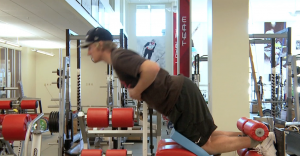 Lindsey Vonn
Julia Mancuso
Ted Ligety
As you can see, strength training is an important piece of a ski athletes training.  Below are, additional, benefits of a regular strength building program:
anaerobic endurance (ability to ski that bump run without "dying") can improve 50% with strength training,
joint stability improves,
and improved body composition
Here is a testimonial from a PEAK fitness NW client who has reaped the benefits of a ski conditioning program that included progressive strength training:
 "My strength and endurance are the strongest they've been in more than ten years.  My balance and agility are close to how they were when I was ski racing in college.  Thanks to Jenn my first day back to skiing this year in foot-deep Oregon powder was wonderful.  I was not at all sore or tired afterwards.  I've also enjoyed playing indoor soccer, an all-day yoga seminar and daily workouts that leave me inspired for more!" 
Kirsten Klug, Ski Conditioning client for almost 10 years
Wobbly legs, sore muscles and short ski days can be prevented.  And although we have many things we want to do in the off-season:  work, play with children, spend time with friends and family, etc – this 30 minute or less workout provides the answer for a well-planned ski conditioning program that starts…in the summer with strength building.  Get it in where you can fit in so that you can be at your PEAK ski condition this season.
If you have any questions or would like more details on off-season ski conditioning contact Jennifer Lockwood.  NEW Ski Conditioning classes beginning June 3rd in the Portland Metro area, see Calendar on website.  Look for next weeks blog:  "6 Key Components of a Year Long PEAK Ski Conditioning Program".
Jennifer is the owner of PEAK fitness NW, 20 year Certified Personal Trainer, 7 year PSIA Level III Alpine Instructor at Mt. Hood Meadows and 20 year Ski Conditioning program designer.  She can be reached at jenn@peakfitnessnw.com or 503.913.8385.