What is Nordic Walking?
Nordic Walking uses two specifically designed poles to work not only the upper body while walking but also 90% of all the muscles in your body.  Like cross-country skiing, the poles are used by the arms to match each step the person takes.
How is it better than just walking?
Nordic Walking increases your heart rate without increasing your perceived rate of exertion.  You get a better workout without feeling like you are working any harder.  Nordic Walking is a low-stress, full-body workout that burns up to 40% more calories while increasing the intensity of the workout without adding more time.
How does Nordic Walking Increase an Upper Body Workout?
Nordic Walking works the abs, arms shoulders, and upper chest and back muscles through a full range of motion, stretching and lengthening those muscles.  Nordic Walking tones the upper body, making your workout more efficient.
How does Nordic Walking Increase Stability & Posture?
Nordic Walking Poles provide stability and help remove stress from knees and other joints in the body.  Nordic Walking creates resistance, helping create better bone density.  Proper use of the poles and arm motion encourages improved posture.
Who does Nordic Walking?
Nordic Walking has been the fastest growing fitness activity in Germany, Finland and other European countries over the last seven years.  Today, approximately 500,000 people in Finland enjoy Nordic Walking regularly.  Enthusiasts look ahead to bringing it to the 80 million fitness walkers in the United States.
Turn Your Walk Into a Total-Body Workout
Burn more calories during your walk
Pump up your cardio by increasing oxygen consumption
Reduce stress to your knees and lower joints
Reduce heel strike force
Strengthen your upper body and create resistance to build better bone density
Distance and intensity can be adapted to weather, terrain, and physical condition of the individual
Top Reasons to Nordic Walk!
Posture & Back Health:  happens by accident with use at any intensity.  Relieves neck and shoulder muscle tension and improves lateral mobility of the neck and spine.
Heart Health:  happens by accident with regular use; intensity of workouts will vary depending on goals.  Your heart increases 5-18 beats per minute with a decrease in perceived exertion compared to walking without poles.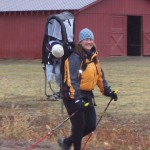 Weight Loss:  happens over time if the person Nordic Walks at an easy to moderate intensity.  A person can burn 238-400 calories per hour Nordic Walking which equals a 40% increase in energy expenditure!
Moving Meditation:  Nordic Walking is a highly effective meditation tool drawing one's attention inward to feel the whole body activity and the breath.
Walker's High:  many avid Nordic Walkers claim to feel an intense endorphin boost similar to the "runner's high".
Low Impact:  Minimal stress is felt on the ankles, knees and hips, improving balance and propulsion.
Safe:  the poles aid in balance and offer assistance on slippery surfaces.
Contact PEAK fitness NW to schedule your private and/or group Nordic Walking lessons!