Get Out.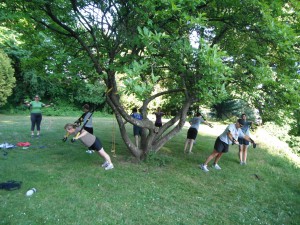 OUTDOORS is the BEST gym in the world!
93% of Americans day is spent indoors
75% cleaner air outdoors
12% more calories burned outside vs inside
≥32% more fat burned outside vs inside
Natural light is the best source of light available & impossible to reproduce
20 minutes – 2 hours/day of sunlight is recommended for hormonal regularity – helping us feel more calm, alert and upbeat
VARIETY – the ever changing outdoor surroundings, terrain and freshness of air INSPIRE people to stay COMMITTED to Outdoor Fitness Training at a higher rate than those who exercise indoors.
It is clean, dirty FUN!  The outdoor environment turns our clients workouts into PLAY & ADVENTURE giving them a greater sense of ACCOMPLISHMENT, having braved the terrain and conditions of the outdoors.
Nature. Air. Light.
[button link="https://www.peakfitnessnw.com/training-and-adventures" color="green"]See Training & Adventures[/button]