Ski Conditioning 5:30PM
November 28, 2016 @ 5:30 pm

-

6:30 pm

$120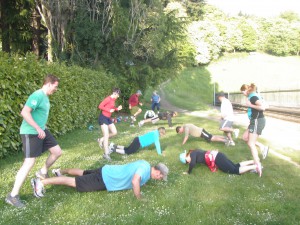 NOW is the time to Get Fit. Ski Hard & Have FUN!
Ski Conditioning
Elevate your skiing or riding skills to a whole new level.
Mondays/Wednesdays

5:30-6:30PM
FOCUS:  Strength, Agility, Quickness, Power & Balance

INCLUDES:
60 minute athletic conditioning workouts with a ski focus
November 28th – December 14th*, 3 week session, 6 workouts
Ski Conditioning will build your overall athleticism, increase your fitness level, prevent injuries and increase your performance on the mountain.  This program will make you a more powerful skier and rider:
multi-joint strength, will make you stronger
braking strength through deceleration training, which will help you absorb landings and prevent ACL injuries 
explosive power, which will give you more "pop" on your jumps
rotary power to improve your mogul skiing and rotations in the air
balance training, core strength will ensure your stability and body awareness on the mountain
agility and reaction time to quickly react to changing slope conditions, mogul and tree skiing
proprioception and body awareness, necessary for every rider and skier to navigate their way down the slopes. 
Pricing Options*:
6 sessions, 2x/week, 3 weeks, 5:30PM: $120
*Minimum 4 participants per class.
BONUS PEAK Ski Conditioning, 12-week program, ONLY $50, that's only $1.31/workout!
Continue your workouts AT HOME when you are not with PEAK fitness NW and GET FIT. SKI HARD. & HAVE FUN! These workouts are great total body routines that are time efficient, effective and require minimal equipment; appropriate for skiers & non-skiers!   PEAK Ski Conditioning, 12 week, 36-30 minute AT-HOME workouts (online).  Available ONLY w/above class registration.
PEAK Ski Conditioning, At-Home: $50
Peak fitness NW Personal Trainer, Jennifer Lockwood
23 year Certified Personal Trainer
Current PSIA-NW Divisional Clinic Leader
14 year PSIA Ski Instructor,  Training Director, Mt. Hood Meadows
Completed the Outdoor Action Fitness Level II Course Certification, The OAF Workout – Anywhere! Anytime!