Kids FUNctional Fitness
July 17, 2017 @ 9:30 am

-

August 18, 2017 @ 10:30 am

$60
Monday-Wednesday-Friday
9:30-10:30am
7-13 year olds
Kids FUNctional Fitness exposes kids to fundamental movement patterns related to long-term athletic development.  They will learn the ABC's of movement:  crawl, skip, jump, run, squat, etc.  All will be done in a fun and dynamic atmosphere and in an environment where learning occurs.
Additionally, kids will be exposed to motivational and nutritional content.  Your kids will not only become more athletic; they will become better kids on and off the playing field.
Nearly 30% of America's children are overweight or obese
Nearly 70% do not get enough daily physical activity
Only 4% of children have access to daily physical education
Program Goals: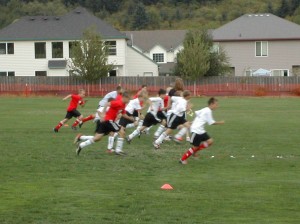 Develop & enhance fundamental movements
Increase physical activity
Decrease dangers of sports overspecialization
Develop physically literate youngsters = active, healthy & pain-free for life
Improve strength, agility, balance, hand-eye coordination, speed & flexibility
We create strong, fast, coordinated and confident young leaders!
Weekly Sessions:
July 17-19-21
July 24-26-28
August 7-9-11
August 14-16-18
Located in the heart of the Mount Hood Community!
Summer Commitment:
12 workouts, 4 weeks:  3 workouts/week  $199
Sibling Discount 20%:  $159
3 workouts, 1 week July 17:  $60
3 workouts, 1 week July 24:  $60
3 workouts, 1 week August 7:  $60
3 workouts, 1 week August 14:  $60
Sibling Discount 20%:  $48
Sign-up by Friday, July 14th @ 8pm
No refunds upon receipt of payment.
4+ participants needed
PEAK fitness NW Owner & Personal Trainer, Jennifer Lockwood
24 years sports conditioning & fitness training experience
Exercise & Sports Science, BSc, Oregon State University '93
Certified Personal Trainer, 24 years
Certified Health Fitness Instructor, 21 years
Certified Health Coach, 21 years
Precision Nutrition Level 1
Outdoor Action Fitness Level II Course Certification, The OAF Workout – Anywhere! Anytime!
Children's Specialist Clinician, Professional Ski Instructors of America – NW