High Intensity Interval Training 7:30am
July 10, 2017 @ 7:30 am

-

August 25, 2017 @ 8:30 am

$180
HIIT
Monday-Wednesday-Friday
7:30-8:30am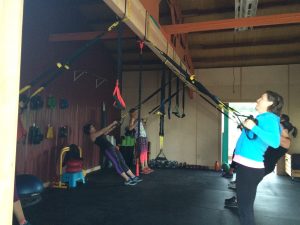 High Intensity Interval Training (HIIT) is specifically formulated to fit every fitness level, from beginner to advanced. Lose inches, sizes and get the body you want.
HIIT training focuses on what happens AFTER exercise is over – boosting post exercise caloric burn so your metabolism 2keeps burning MORE calories long after the exercise is over.  You'll be burning more calories during your work day!
Get ready to sweat and succeed with results you can see!  You will work in high-intensity intervals of 40, 30 or 20 seconds followed by short rest periods of 20, 15 or 10 seconds.  This higher and lower intensity interval protocol is repeated in 4 minutes cycles or one Tabata.  Workouts consist of challenging full body exercises designed to get you out of breath and challenged.  HIIT workouts are efficient and effective ways to improve your fitness, boost your metabolism and burn more calories.
Session 1:  July 10th – 28th 
9, 60-minute workouts July = $180
Session 2: August 7th – 25th
9, 60-minute workouts August = $180
Minimum 5 participants.
18, 60-minute workouts July & August session= $299, savings of $61
2 payments: 18, 60-minute workouts = $324
Payment #1:July 10th $162
Payment #2:July 28th $162
HIIT will be FUN, fast-paced workouts where variety is the key to your long-term workout commitment. We'll use our body weight, tubing, small and large rubber bands, medicine balls bosus, TRX suspension trainers, battle ropes, RIP trainers, agility balls and ladders and hurdles to spice up the workouts!
Tabata Bootcamp™ Certified Instructor
24 year certified Personal Trainer
21 year certified Health Coach
Owner of PEAK fitness NW